Ceramic Colours
What are ceramic colours?

Ceramic colours are preparations made of frits, ceramic pigments and inorganic raw materials. Together with enamels, colours are the main components of the ceramic tile surface
They are usually presented as a fine colour dust and the particle size depends on the decorative effect to obtain.
How are they produced?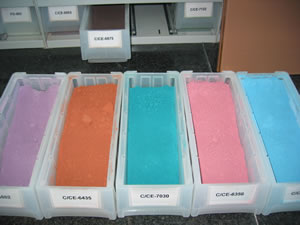 They are made of oxides of different chemical elements (aluminium, antimony, cadmium, zinc, cobalt, chromium, tin, iron, manganese, nickel, silica, vanadium…). The mix of these is milled until obtaining fine dust. Very often, the milled mix is again calcined and again milled in order to get the desired texture and properties.
To apply the colour to the ceramic tile, it is mixed with liquid organic substances. In the firing process, the organic substances disappear and the ceramic colours melt and react with the ceramic surface.